2-MINUTE READ
Timpers: Entrepreneurship in braille with Google's help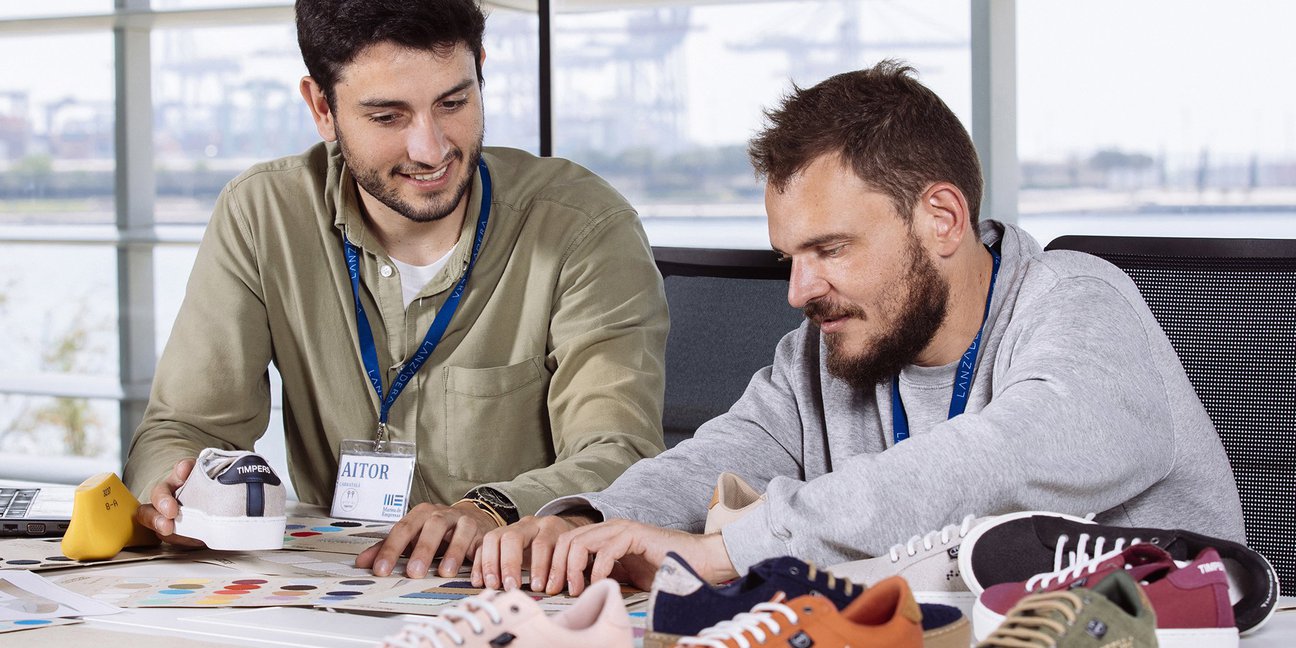 Business and Services,
Retail
Design trainers without ever seeing them that are worn by the entire staff of a well-known football team? It may seem impossible, but Aitor Carratalá, Diego Soliveres and Roberto Mohedano can do anything. These three young people met on the football team for the blind in Alicante. And in 2018 they created Timpers, an inspiring and innovative project that consists of making trainers designed by blind people. 'One of our goals is to give disabilities greater visibility and normalise them. We believe that all people are capable of entrepreneurial work and playing essential roles at a company, given that – far from being a disadvantage – being disabled adds diversity when designing a product or service. We hope that in 10 years' time and thanks to our fight, companies with 100% of their staff comprised of people with disabilities have become a widespread and normal occurrence.'
The design process for the trainers is very distinctive. Three partners participate in it actively, but Diego is the main one in charge of selecting the best materials and designs by using his sense of touch and feelings. What never changes is their brand name in braille, an identifying trait of the company, which can be read on one side of the trainers, as well as the rounded laces that make it easier to tie them.
They have gone through tough times, the worst in March 2020 due to COVID-19, but far from giving up, it gave them drive and a push. 'It wasn't the time to stop, but to speed up.' To this end, they decided to create their business profile on Google to make the website more accessible to everyone, and they achieved it. Their sales increased and they signed collaboration agreements with Paralympic athletes like Carmen López, a surfer from Asturias, and both a world and Spanish champion. They also achieved one of their greatest milestones: That their trainers would be part of the Levante Football Club. And, if that weren't enough, they launched their first sustainable collection using recycled materials.
Another opportunity they had from their Google Business Profile was to create intimate and friendly conversations with their customers. 'It is essential to have a customer service line, which makes people feel more secure.' And that is how they started to get calls from a target market quite unfamiliar with online purchases, who felt the need to physically try on their trainers.
The Timpers team also took several courses on Google Actívate, which they have used to understand the interests of their target market and better channel their sales. 'Marketing is much more than knowing how to manage social media.' To them, Google Analytics is a fundamental digital tool. Thanks to using it, they understand the needs of their potential customers much better and can refocus their designs to adapt to their tastes.
In short, when there is passion and hard work, there is nothing that will prevent them from reaping success. Because who was going to tell Diego, Aitor and Roberto that today, their trainers, developed in such a hugely competitive market as footwear in Alicante, would be sported at an organisation as recognised as the Mutua Madrid Open. 'We are extremely proud of having created a made in Alicante product that is accessible to everyone round the world.'

Knowing how to analyse the data on our website is one of the most important things to ensure that a campaign works. Metrics open up a whole new world and with Google Analytics you can know whether or not you're doing well and how you need to focus and direct your business.
AITOR CARRATALÁ, CO-FOUNDER AND CMO, TIMPERS