4-minute read
Indira de Paris expands its head scarf sales online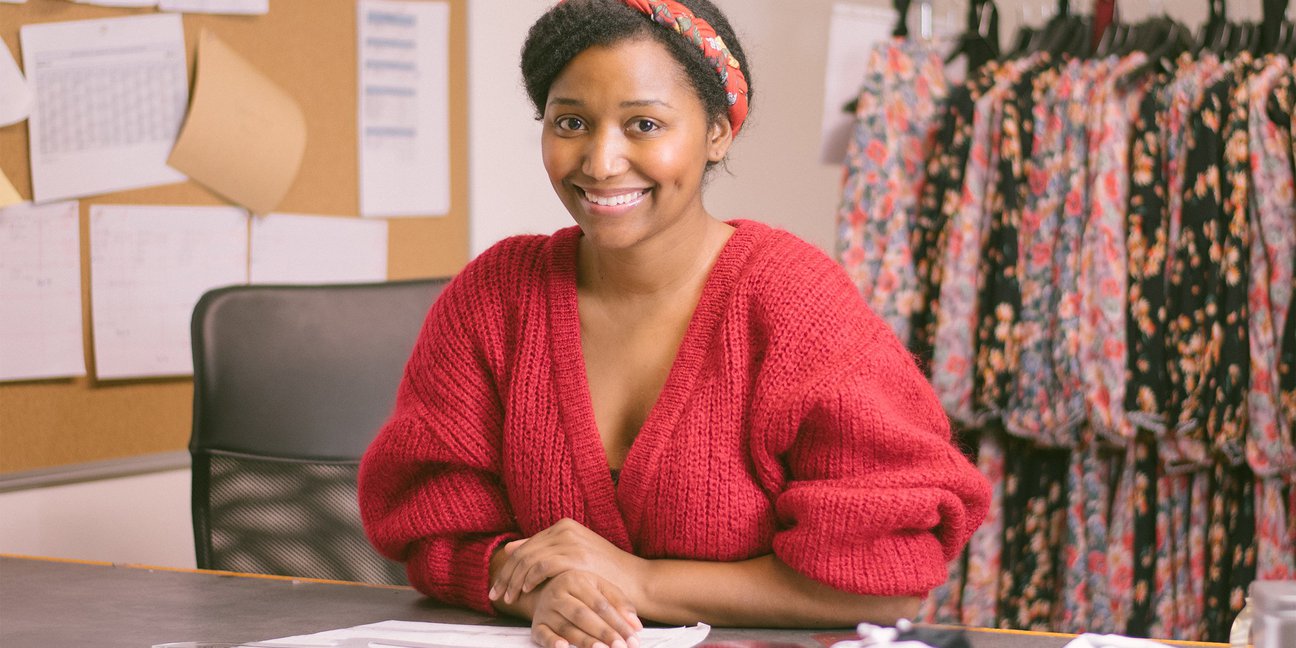 Business and Services,
Retail
Building a brand around an innovative product
"I wanted a headscarf that was simple to tie, but the right product wasn't always easy to find."
Katia Da Veiga spent hours watching YouTube tutorials, looking for a simple, aesthetically-pleasing technique to wrap her afro hair after washing it. After struggling to find a solution she took matters into her own hands, and the idea she developed would change everything.
Armed with a needle, thread and a piece of fabric that was lying about, Katia – already an established designer of bridal jewellery and accessories – fashioned a prototype which proved to be a revelation. After tinkering with the concept, she'd produced her first smart, attractive headscarf.
It was an immediate online success, and soon Katia's gorgeous creations had drawn the attention of organisers at Who's Next – a Parisian fashion trade show who help nurture the industry's newest talents.
This was a major boost for the designer, who saw her headscarves distributed to stores around the world. From there, things intensified. She set up stands in pop-up boutiques while driving her online sales in parallel, finally opening her own store in 2019, at Arts et Métiers in the centre of Paris.
Expanding e-commerce as a growth driver during a crisis
Having opened a physical point of sale in 2019 to complement her online store, Katia's sales doubled. At the start, 60% of her turnover came from in store sales, compared to 40% online.
But protests, strikes and finally the pandemic all came past her door. "Our numbers had doubled because the store was in a great location, right by a metro station, with passers-by and tourists…but that all changed, with everything going on," she admits.
The first lockdown forced Katia to close her store and focus on online sales. "Many customers are shopping online now anyway, they can get refunds if the products aren't right for them. Besides, the website gives us a global reach. 15% of our sales come from abroad." She diverted from offline promotion, and focussed on digital communications and social media. This adjustment has helped the business thrive, with 70% of sales now coming online versus 30% in store."
Brand management using Google tools
With most of her sales now made online, Katia knows she needs to take advantage of the digital tools available. "The one we use most is Google My Business. We get quite a lot of reactions, messages and photos of the store, which we can use to showcase it. I go through the numbers on a regular basis. That's the main thing we use," she says.
To launch a campaign or send newsletters, Katia uses Google Analytics. The data that she pulls from it gives her an in-depth view of which pages have been visited, the bounce rate on certain pages, or even where in the world Indira de Paris's customers are based. "It really is a very powerful analysis and decision-making tool," she stresses.
The self-professed feminist has included the "woman-led" attribute on her Google My Business page. "Supporting women-run businesses is important to me, and I think highlighting it is very worthwhile." For Katia, it's her way of proving her doubters wrong, especially when she was just starting out. "At the beginning, I got some hostile, even racist or misogynistic comments. I know a lot of white female designers, but we've all experienced the same problems," she observes. "It's a fundamentally difficult industry, but I reckon it's even harder for women."
Thanks to her perseverance, Katia has been able to grow her brand successfully. Today, she's launching her ready-to-wear line, determined to keep filling women's lives with colour.
"Sales are 70% online and 30% in stores. We are doing well compared to other activities: our online presence is what saves us."
KATIA DA VEIGA, FOUNDER & CREATOR, INDIRA DE PARIS