2-MINUTE READ
Guitarras Ramírez has seen its business grow thanks to online sales and Google tools.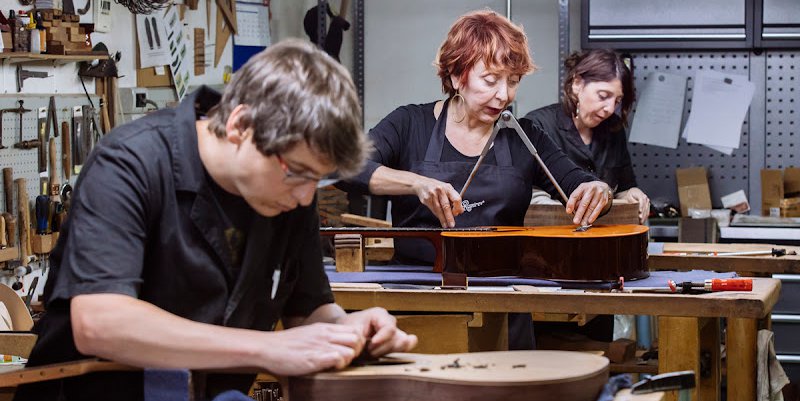 Business and Services,
Retail
Guitarras Ramírez is one of those centuries-old companies that make history. Considered one of the most important Spanish guitar construction firms in the world, for two centuries they have been hand making this instrument in Madrid that is sold and played in all corners of the planet.
In this workshop, the tablao guitar and the foundations of what we know today as flamenco guitar were born. Its greatest ambassadors have been Andrés Segovia and Serranito, but renowned artists such as Paco de Lucía, Santana, George Harrison, Eric Clapton and Supertramp have also played Guitarras Ramírez, among many others. In 1882 José Ramírez I, Amalia Ramírez's great-grandfather, started this business. Today it is she, belonging to the fourth generation, who continues her family tradition and leads the company, becoming the first woman in charge of Guitarras Ramírez. "It has been weird to be the first female guitar player in the medium, but for me it has been more natural than I expected."
Amalia began running the business alone after her brother sadly died. Together with her father he was the one who taught him her trade. Amalia explains: "I think that before me there had to be women guitar players, but it was not known because it has always been considered a men's trade." She has always been very clear that she wanted to continue with the family business and she has won on her own merits the trust and recognition of all. "This trade has been my life for almost 50 years."
Currently, the fourth and fifth generations coexist in the business. She works with her two nephews, Cristina and José Enrique Ramírez, who have inherited a passion for craftsmanship and respect for the trade. Together they have survived one of the worst crises in their history. "COVID-19 has been a disaster for our business. We did not have stock and our website was out of date, but we could not stand still. We decided that it was a good time to bet on digitization."
During the pandemic, Cristina Ramírez obtained a grant from the Community of Madrid to do a Marketing and Social Media course at IE Business School where she began to train in digital marketing, and she learned about the Google Digital Training. Thanks to these courses, she was able to easily complete the information on her Google Business Profile, realize that the Web did not comply with any of the digital guidelines, and thus begin to work on that step to digitization. Within days of implementing the small change on their Google Business Profile, she began to notice that the way she interacted with customers was revolutionized.
Until now they had never thought that online sales could work. "It never crossed our minds that someone would buy an instrument without trying it. But since we started updating our Google Business Profile, we started receiving many calls to the contact number, it is much more agile. We saw how sales increased and the business was working again. It gave us a huge relief just by updating the information." This adaptation has allowed them to get to know their customers more and have a more direct deal with them. Before COVID-19, they sold guitars directly in store through dealers. Now their private clients write to them through the direct messages of the Google Business Profile chat or by whatsapp with doubts; Thanks to this, they have strengthened ties with their clients.
Based on their experience, they think that digitization is key and they do not hesitate to recommend it to other businesses so that they do not get stuck in the past. "We are in a time of transformation in which online sales is the future."
"Having a Google Business Profile has marked a before and after in our business, we have much more visibility. Without the Google digital training we would not have made the most of the tool."
CRISTINA RAMÍREZ, GUITAR MAKER OF THE FIFTH GENERATION, GUITARRAS RAMÍREZ