2-MINUTE READ
Michael Chapman and Toks Ahmed design extra-large caps for swimmers with voluminous hair – now mentoring with Google is helping them expand their brand online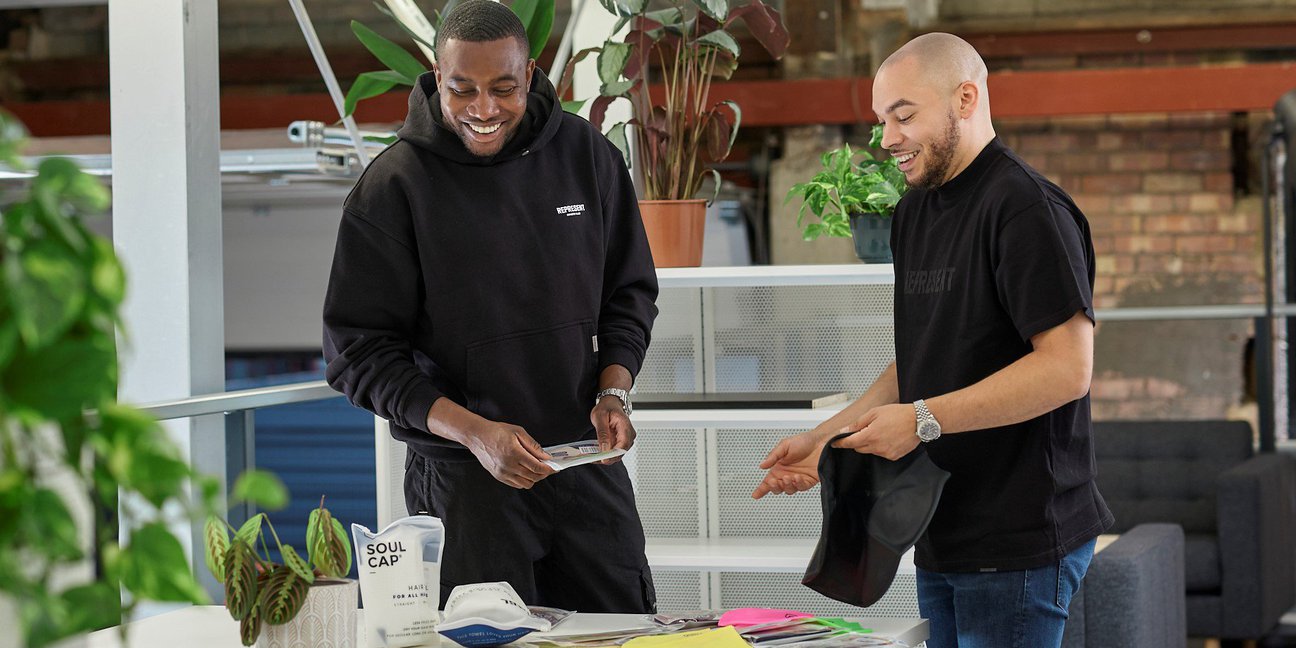 Michael Chapman and Toks Ahmed have been best friends for nearly 20 years, from securing their first jobs together as teenagers and supporting each other in learning to swim as adults.
Three years ago, during one of their swimming sessions, the pair met a Black female swimmer who said she had difficulty fitting a swim cap over her Afro hair. That moment led Michael and Toks to launch SOUL CAP, a swimming cap that's flexible in size and created for inclusivity, ensuring that swimmers with almost any hair style can swim comfortably.
When swimming pools closed for long periods during lockdown and consumers were shopping more online in 2020, Michael and Toks wanted to focus on expanding into international markets like South Africa. They knew they needed help to be discovered by consumers online, so were eager to see how one-to-one mentoring and training from Google could help support their new plans.
"We got loads of good advice from our mentor, particularly around online presence and retail," says Michael. "Maximising our opportunity online to get better discoverability is a priority of ours to improve our general online exposure and put ourselves in front of new audiences.
"Our Google mentor gave us advice on ways to optimise our website and create topical and engaging content for social media, which helped increase our social presence."
Based on insights from Google Analytics, including users' time spent on site and click throughs, the SOUL CAP team adjusted the layout of their website, making the information and shopping basket easier to find. In parallel, the brand engaged in important and focussed conversations on social media to help improve diversity in sport as well as wider campaign work to challenge stereotypes & make swimming for everyone.
Michael says: "The mentoring opportunity has made us look at the wider picture, and made us aware of all the opportunities of where we could take the business, at the same time realising that there are tools like Google Analytics to help us."
He adds: "It's easy to have blind spots around your own brand. To have a professional take a look at it with fresh eyes is incredibly insightful, and I think it's taught us to gather more opinions along the way."
SOUL CAP has also recently increased its product range to include new sizes and swim caps suitable for outdoor swimming, as well as hair towels, which now makes them even more ready to expand overseas.
New members have joined the team, focusing on generating good social content and PR to build the brand – while a partnership with Team GB swimmer Alice Dearing has meant more eyes on their product.
"We're excited at what's to come for 2021," says Michael. "We will be utilising the analytics and social media tools learnt during our Google mentorship to give us insights and data points to continue to expand our business."
"We will be utilising the analytics and social media tools learnt during our Google mentorship to give us insights and data points to continue to expand our business"
MICHAEL CHAPMAN, CO-FOUNDER, SOUL CAP