4-minute read
When one working mum saw a gap in the market for culturally diverse toys, she launched her own company — and earned a five-star rating on Google Maps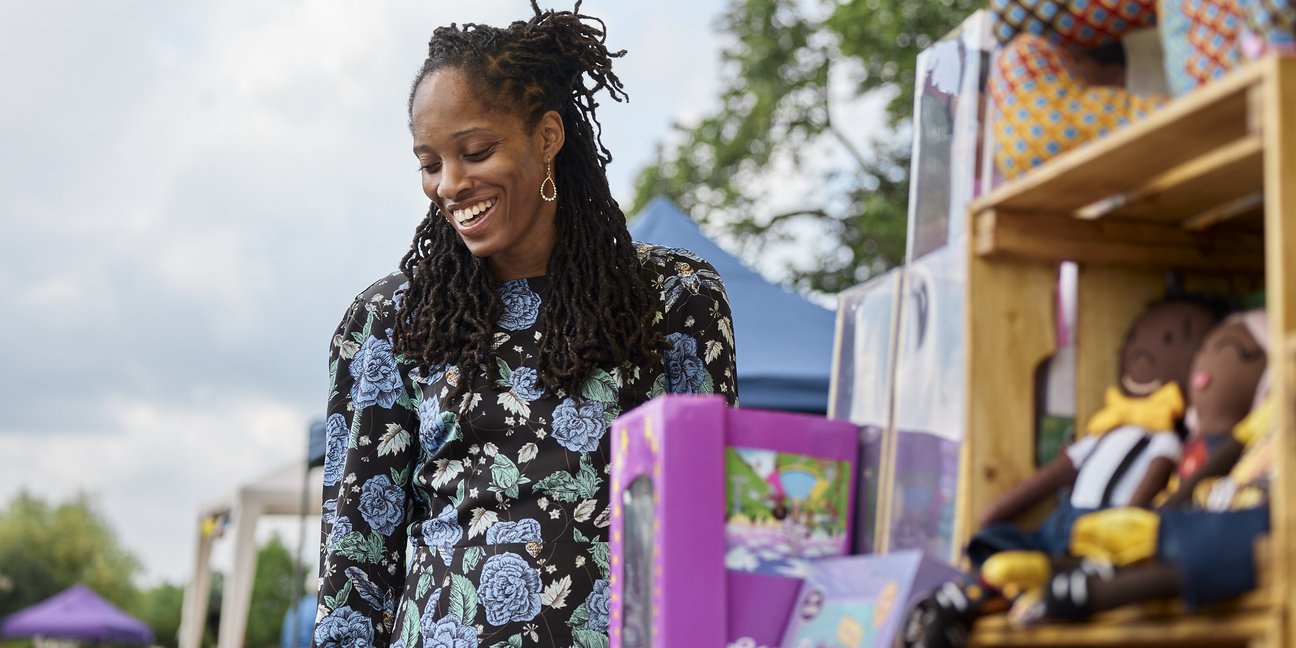 Business and Services,
Retail
Mum-of-three Pamela Djima was looking for educational toys when she came across a company selling Map of Africa puzzles — she was so impressed that she also purchased Map of Nigeria and Ghana picture jigsaws from the same company. The experience got her thinking about how difficult it is to find a single store that sells a range of good quality, culturally diverse toys, so in June 2020, Pamela set up a one-stop shop selling a variety of African- and Caribbean-themed books, dolls, and games, giving access to a rich variety of ethnically inclusive toys in one place.
"My children are aged three, four, and six, and I want them to know more about their heritage," says Pamela, who has her family roots in Nigeria, while her husband is of Ghanaian heritage. "My children were all born in China, where my husband and I worked for a number of years until our return to the U.K. last year, and I want them to be able to answer the question 'where are you from?' with confidence and pride — it's something they were asked all the time in China because their skin and hair were so different from everyone else's. Culturally diverse toys are a great way to educate children, but it's difficult to find a variety in one place — you have to visit a number of websites and stores depending on whether you want dolls, books, or games."
Pamela set up Our Kids Trove and started buying good quality items, all sourced from a variety of Black-owned businesses — at first just selling them to friends and family. But demand increased and she launched an online shop in June 2020, showcasing a carefully curated collection of inclusive toys. These include games and puzzles that come with story cards to explain life in African countries, books that cover Black culture, and African- and Jamaican-themed teddies and dolls.
"It was interesting because I started the shop right in the middle of the heightened awareness of Black Lives Matter so people were keen to buy more diverse toys," says Pamela. "I do think people are more conscious and intentional about their children learning about different cultures, even if they're not from a diverse background themselves, which is great."
Once the website had been running for a few weeks, Pamela set up a Google My Business account, giving detailed information about what the shop sells, adding pictures of her best-selling dolls and teddy bears, and sharing opening hours and contact details.
"There's so much information out there on how to improve your online presence but I came across a lot of recommendations for using Google My Business," says Pamela. "I found it straightforward to use and I've done quite a bit of research on how to improve my ranking when people are searching the term 'diverse toyshop'.
"Customers were emailing to say how much they loved their purchases so I would ask them to leave me a Google review and even add a handy link to make the process easier for them," reveals Pamela. "But many have been organic reviews, and I'm really grateful for the positive comments and all the five-star ratings. I definitely read Google reviews when I'm shopping and I'm sure my Google reviews and star ratings have helped my business grow."
The next step for Pamela, who also works as a freelance writer, was to reach shoppers outside London.
"I delved into Google Ads at the end of 2020. It helped me get more traffic to the site for sure, but I now need to revisit this to fine-tune the types of visitors I'm getting, to increase sales," she explains. "I've also developed the blog section of the website, and I use Google Trends to help with keywords I should be using to promote each specific topic — so it reaches as many people as possible.
"Overall, business is really good and my children love it. They call it 'our toyshop' and it's where all their birthday presents come from — because I really believe in the products I sell," says Pamela. "The next exciting step is to look into educational partners and start working with schools and nurseries to diversify their resources."
Customers were emailing me to say how much they loved their purchases so I would ask them to leave me a Google review and even add a handy link to make the process easier for them.
PAMELA DJIMA, OWNER, OUR KID'S TROVE