2-MINUTE READ
Mabagnol: breaking new ground with a "self-garage"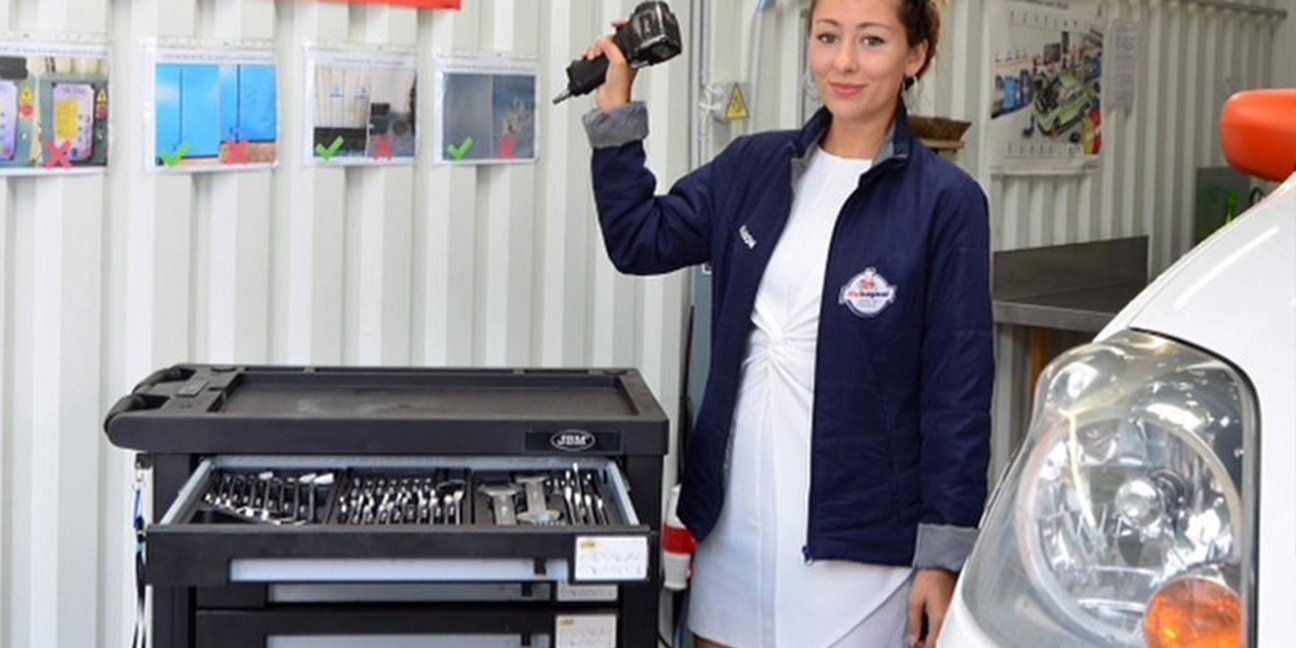 Getting started in business as a young woman
"I was just talking to the secretary on the phone." "No, that was the boss."
It's comments like these that have kept Allison Denis's head in the game since Mabagnol first started near Lyon. As a young entrepreneur, she knew that being a woman in the automotive industry would bring some challenges.
But that didn't stop her from passing up a job opportunity abroad to launch her business, supported by her car-obsessed father. What started out as a joke soon became a ground-breaking concept: creating a "self-garage" by providing tools and maintenance equipment for car owners to work on their own vehicles, without the need for a mechanic. Mabagnol was born, and so was Allison the entrepreneur.
A woman in a predominantly male sector
Rolled-up sleeves, a "swiss army knife" approach, and a healthy dose of determination set the rhythm for Allison's daily routine. 24 hours a day is too few for the woman who manages the clients, the finances, the communications and her team all at once.
But the biggest challenge is still asserting her place in a predominantly male field. "It's hard to get the same respect as men do. You need to have the right character to face it and respond appropriately." And Allison has no shortage of character: if you "can't change the way people think, you have to give them a push." This means reminding her team not to get annoyed if clients make passing remarks about the "young lady in charge".
She's also included the "women-led" attribute on her Google My Business page. "In today's world, I think women have so much to offer, whatever the industry," she says, at a time when empowerment is the watchword.
Boosting the brand with increased visibility online
As soon as Mabagnol launched, Allison set up a Google My Business page. "The business was very specific, and the demand was there, but the communication channels that I know and use weren't necessarily enough," she admits. Without having to become a tech expert, Allison familiarised herself with Google My Business and admits that "even people who have trouble with technology and online platforms will find it easy to use." In just a few clicks, she can update her opening hours, upload pictures of her garage, or add holiday closures. Appointments can be made through a booking platform that links directly from her Google My Business profile. "Having a clean Google page, with up-to-date hours and the right contact information, is crucial, because that's how our customers find us," she says. With more than 12,000 quarterly visits to her site, in a particularly competitive sector, as well as 500 calls and 80 requests for directions per month through the Google My Business "Customer Actions" section, her work is clearly paying off, even in the midst of a pandemic.
Out of all appointments booked through the Google My Business page, 50% are new customers and in the space of a year she's seen a 30% increase in customer actions through her Business profile. Allison's diligent management of her page is what guarantees this success, and the comments – she makes a point of answering every single one, good or bad – back this up.
After four years, Mabagnol has established itself as a strong business with a loyal customer base that keeps coming back time and again. One thing is for certain, this is a business with real drive.
"Just being a woman brings a new vision of how to work. It gives you the opportunity to create a different relationship with customers."
ALLISON DENIS, COMPANY MANAGER, MABAGNOL