2-MINUTE READ
Fun, free, safe holidays: Babaiola, the community of LGBTQIA+ travelers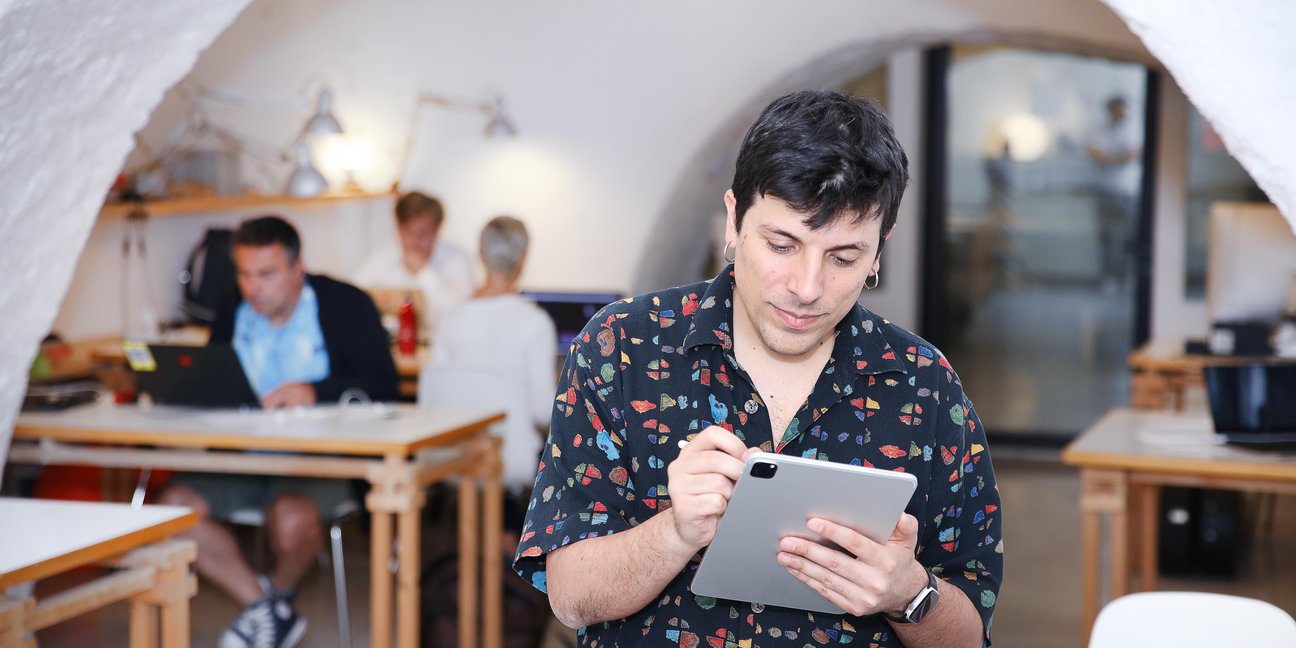 Nicola Usala, a 36-year-old programmer from Sassari, co-founded a startup that now has 350,000 monthly users worldwide. Its strength lies in the ability to promote social contacts by building relations and connections between people.
How do you find a hotel where you can express yourself freely, a LGBTQ-friendly place for the evening or an event where you can make new friends in a city where you don't know your way around? Easy: just ask the people who do. This is how things began for Babaiola (which means "ladybird" in Sardinian), a point of contact for LGBTQIA+ travelers: "A community where you can find reliable, updated information on LGBTQ-friendly hotels, hangouts and events around the world, where users exchange advice." Nicola Usala, a 36-year-old programmer from Sassari, started developing it in 2014 along with a group of friends from the University of Cagliari: "Taking part in the experimental Contamination Lab, and then, thanks to a scholarship, ending up in the Enlabs acceleration program at LUISS."
The idea of creating an aggregator for LGBTQIA+ people came in response to the needs that emerged from the team and from a gap in the Italian tourist market. "We realized that information on LGBTQIA+ topics was difficult to get – Nicola explains – Italy was going through a bad time, with episodes of discrimination, such as when a gay couple was turned away from a hotel." There was a need to find places where people could feel safe and be themselves, even when on holiday." But that's not all. "Babaiola also contains the latest, updated information." For example, it offers a guide to the best Prides in Italy and around the world in June and July: "We will be delving into various community topics. And we will also be working with organizations such as Sardegna Pride by offering practical and organizational support to anyone wanting to take part."
Something similar was already being offered abroad, but not in Italy: "Whatever idea you may come up with, someone has already thought of it," Nicola laughs. "All it takes is a Google search. And if you can't find it, it's because it's not the right time to make it happen. In our case, the right response was still lacking in this country." The main difficulty was convincing the investors that our idea was a good one: "When you launch a startup, you need to show others that it hinges upon a business idea that makes sense. It wasn't easy, but when it's all clear to you, you can do anything." In fact, from being just an ordinary university project, Babaiola gained momentum to become a company with a market cap of €900,000 in 2016 and €1.8 million in 2018 (the figure is now €2 million), and is now getting 350,000 visits a month from a network of travelers in Italy, Germany, the UK and South America.
There would have been no Babaiola project without the web. "We can exploit all its potential by using several Google tools," Nicola explains. Starting with Google Workspace for in-house operations: "We rely on Gmail, Google Meet, Google Sheets, Chat, Drive, Calendar on a day-to-day basis, and without these we wouldn't be able to handle our in-house flow of information and coordinate." For a company with an international reach that relies on a huge network of collaborators and that is focused on contacts and connections, fast communication is pivotal. "By making the most out of Google products to organize our company, we can handle several projects at the same time and communicate online with all the people involved, without losing any documents or missing any appointments along the way.
To get the most from the web, the Babaiola team also signed up for the Google Digital Training marketing courses. "Thanks to the Google Analytics courses, our CTO Enrico Garia learnt how to keep track of the parameters that were the most important to grow the community: the number of new users that access the site, who they are and where they are from, how much time they spend on its pages, how many then register with Babaiola." This was valuable information that the team has used to segment and customize the Google Ads campaigns that are now being implemented. "In order to promote ourselves, we are trying to optimize our contents in the best way. We're taking our first steps, learning how to use keywords and how to structure our offer strategies."
Babaiola's strength lies in its ability to put socializing and contacts at the center by creating connections between people. "We're focusing on the concept of social travel, a bespoke travel experience using the advice generated by other travelers or city dwellers from around the world." At the moment, you cannot buy tickets or book a holiday on the portal – even if agreements have already been signed with some of the big players in the tourist market – but this feature is on its way. "We are partnering with 181Travel, an international tour operator based in Sardinia. The next step is to offer tailored travel bookings on our website.
"Thanks to the Google Analytics courses, our CTO Enrico Garia learnt how to keep track of the parameters that were the most important to grow the community: the number of new users that access the site, who they are and where they are from, how much time they spend on its pages, how many then register with Babaiola."
NICOLA USALA, CO-FOUNDER, BABAIOLA