2-MINUTE READ
Agro-U: Connecting farmers with jobseekers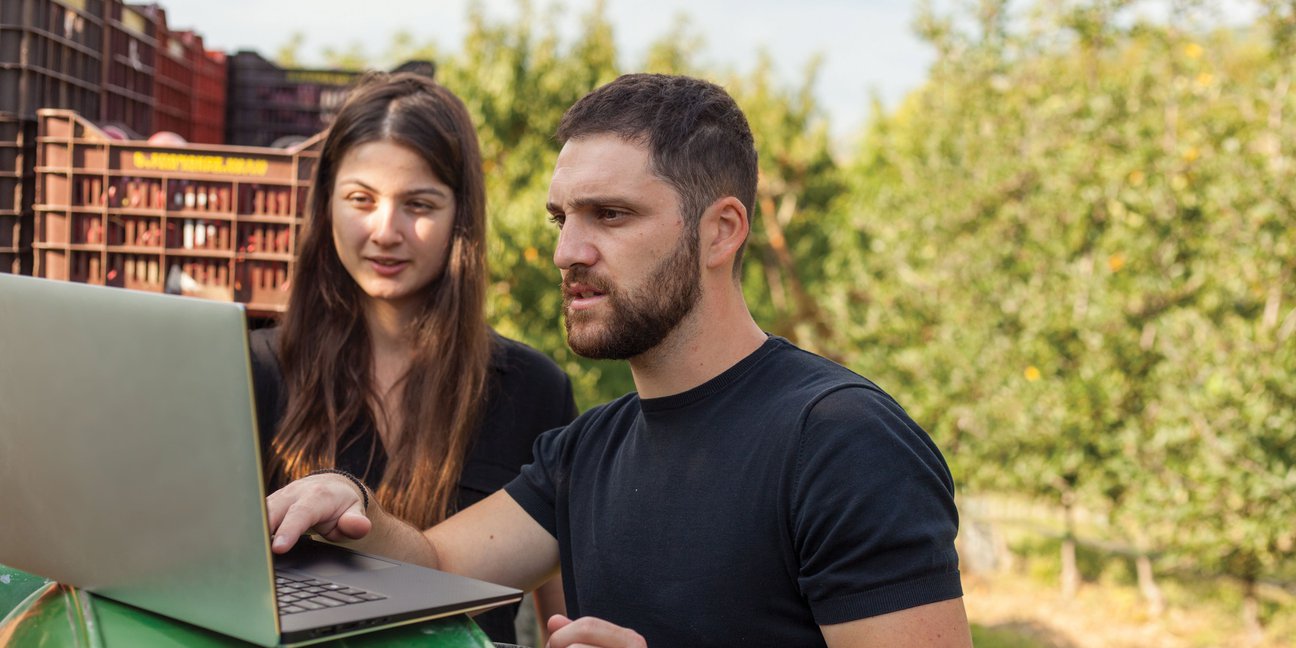 Various lockdown measures due to Coronavirus have halted economic activity in certain sectors and disrupted others. In Greece, where research* shows a big share of Agriculture-based regions, the agricultural sector is facing an unprecedented labor shortage given dependence on migrant labor. With temporary workers being laid off at the same time, there is an opportunity to better match workers into agriculture work. A platform offering a helping hand to connect those who can help each other is Agro-U.
Agro-U is an app designed to connect job seekers and farmers in the agricultural sector. From simple tasks such as harvesting fruit from trees to more complex ones such as driving heavy vehicles, the app allows both farmers and workers to communicate in order to work together. The platform was born out of Founders Korina and Kyriakos' shared passion for coding and programming, as well as Kyriakos' personal experiences of witnessing his father's agricultural business face challenges when seeking support. The duo wanted to find solutions for the challenges they knew that farmers were facing.
In 2017, while studying at the University Of Macedonia, Korina was working towards her goal of becoming a programmer. Looking for ways to expand her knowledge, Korina applied for a scholarship from Google to attend a course on building Android applications and was chosen out of 20,000 applications to take part. During the course, Korina learnt many skills that would prove useful in the future. Korina says, "The mentors of the course were teaching us not only how to code but also the importance of using our imagination and working with others. This experience gave me confidence".
One year later, and realising the importance of agriculture within their region, Korina and Kyriakos came together to discuss the possibility of creating an Android application that would allow farmers to find workers and vice versa. But before bringing their idea to life, the pair wanted to learn even more.
In 2019, they attended a seminar at the University of Macedonia held by Google's "Grow Greek Tourism Online" programme. Korina says, "There, we learned tips about building our website, search engine optimization and the importance of digital marketing in businesses. It showed us the way of creating and promoting a business online."
Combining the knowledge gained from the scholarship and the Grow Greek Tourism Online training programme, Korina and Kyriakos were ready to bring their idea to life. Korina explained, "Through the courses and training made available to us, we were able to give shape to our idea. Google showed us the path we had to follow, in order to reach and make an impact on our customers' lives." However, as they were preparing the launch of their platform, life changed due to the COVID-19 outbreak.
Korina explains, "We adapted our plan and launched our service right before COVID-19 because it was clear to us that there were so many people who could benefit from it. Most of the European countries need personnel for the agri-food sector that come from other countries. When the borders closed, it was necessary to find a solution within our own country".
With their original plan of connecting trained and experienced personnel with the agri-food sector from all over Europe, the pair had to adapt quickly to looking to connect farmers and workers more locally. Korina says, "We are really happy that we took this decision because we get so many heartwarming congratulations and wishes from families and individuals that we helped through the crisis." Korina added, "We're very proud of what we've achieved so far: Currently, 2 million people have been approached via our page. We have received applications from all over Greece and have also filled 1,500 job positions during the pandemic. We have 5000 workers in our network who cooperate with the platform, as well as 530 farmers. We've also served 4 companies in the agri-food sector to find staff according to their needs."
Speaking about what is next for Agro-U, Korina explained, "Our plan will continue as it is, until everything comes back to regularity, and then we will start working again at our original goal."
*Source: Future of Work in Europe Report, Mckinsey & Company, 2019
"Through the courses and training made available to us, we were able to give shape to our idea. Google showed us the path we had to follow, in order to reach and make an impact on our customers' lives."
KORINA, FOUNDER, AGRO-U