5-MINUTE READ
From Down Under, to Dublin. Meet Two Boys Brew.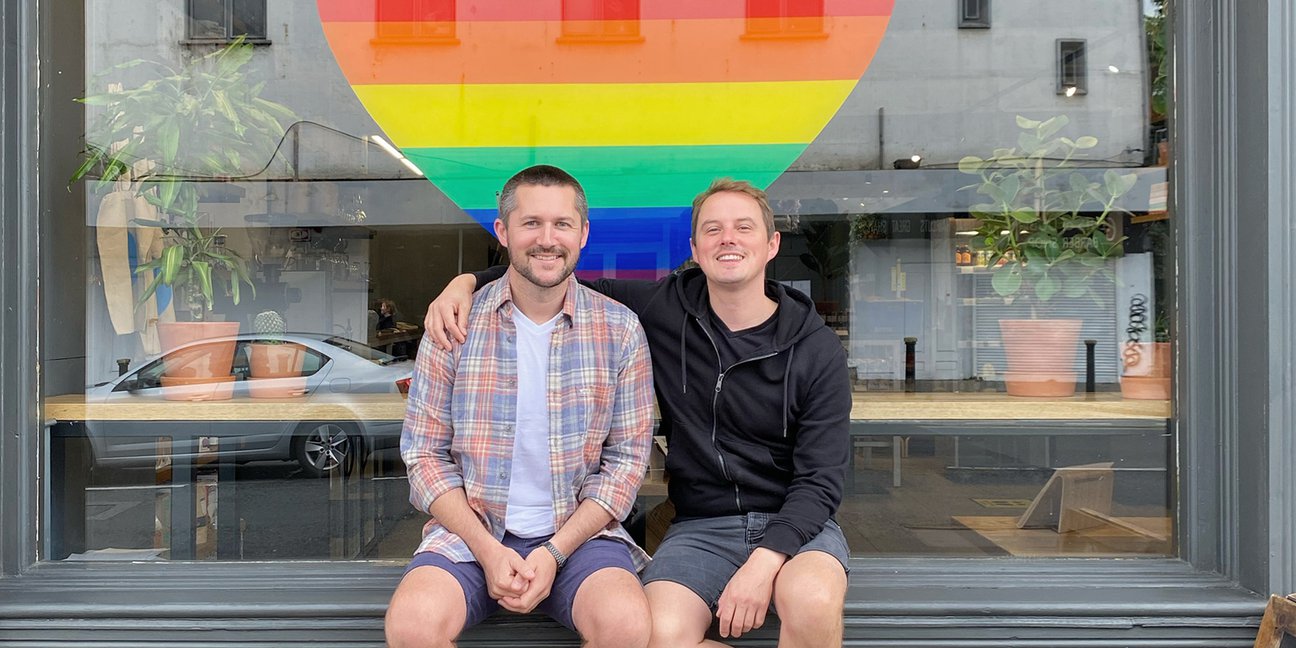 "You don't come to Two Boys Brew to read, you come for the hustle and bustle. It's part of what we do." For partners Taurean and Kevin, the dream of opening their own coffee shop and cafe came when they were both working in Melbourne back in 2015. "Over there, it's part of their culture to go to cafes in the morning and evening," says Taurean. "You meet friends, you catch up. We were inspired, so when we moved back to Dublin we decided to take the leap."
At the core of Two Boys Brew is Taurean and Kevin's dedication to creating the best cafe experience for their customers by celebrating everyone who walks in their door. They source their coffee from specialist roasters and use high-quality seasonal produce throughout their menu – all of which is served in an open, welcoming environment. "When we opened the cafe, we wanted to achieve a space where everyone would feel welcome," says co-owner Taurean. "Being LGBTQ+ ourselves, we know the importance in making people feel safe and valued."
Since opening in Phibsborough in Dublin 7, Two Boys Brew have built a strong online presence, with over 20,000 followers on social media and a Business Profile on Google boasting over 1000 reviews. As a small business, Taurean says setting up a Business Profile was a 'no-brainer', and credits it with helping them to establish a presence in the city by publishing opening hours, contact details, as well as photos of the coffee and food they serve.
Activating the LGBTQ-friendly attribute and identifying the business as a 'Transgender safe space' on their Business Profile are two ways they've able to communicate that everyone is welcome at Two Boys Brew, and is something the two owners feel strongly about. "I've been in situations in the past where you feel a bit afraid to mention 'my boyfriend' or 'my partner', so when somewhere openly says 'you are welcome here', it's like a weight being taken off your shoulders", says Taurean. "One of our customers is in the process of transitioning, and just that little bit of information on our Profile means so much. For someone moving forward in their life, knowing they can go somewhere and not be judged is transformative".
Creating this environment has been a journey for the two owners and one not without its challenges. Just last year they were verbally attacked by a passerby who disagreed with their window display for Pride, which initially knocked their confidence but soon became a point of motivation. "We deliberated for a long time whether to share that negative experience online", says Taurean. "We always try to be positive and optimistic, but we chose to share it and felt some amazing support from the community, and even some media outlets". This support, and the continued success of the business, has helped them build the courage to be more vocal and plan for bigger and better Pride displays.
But last year, while planning was in full flow, the pandemic hit. With most businesses having to close, Two Boys Brew were able to quickly pivot to offering services like click-and-collect and began selling coffee-related products through their website. While hugely challenging, it's been a valuable learning experience for Taurean and Kevin – helping them recognise their own strengths, as well as feel the support from their local community. "We're fortunate because we're located on the periphery of the city near a residential area," says Kevin. "We've been able to really get to know our neighbourhood and bond with people."
Throughout the pandemic, their Business Profile has been an important tool to give people a direct route to their door, and now they typically see around 70,000 requests for directions to the cafe each month. Not only that, but sharing the positive reviews with the Two Boys Brew team has often provided a needed boost: "It's been a tough year, but seeing the good things people say can really make their day", says Taurean.
As they look forward, the pair are now planning to open a second venue in the city. "It takes a couple of years to muscle-up and start thinking about doing it all over again," explains Taurean. "But for people that are different or want to be different, our cafe is a great place to be," he says. "From all the positive feedback we've had from customers and the wider LGBTQ+ community, we've realised there is definitely a market for what we do, and I think we now have an opportunity to replicate it in other areas."
Before that though, there's Pride. "Pride is huge here in Dublin," says Taurean. "It takes over the whole city and we're very happy and proactive to push it. We've got a big window display planned. It's also the only day I'm actually allowed to take control of the cafe's playlist because according to the team, my music taste is so atrociously bad. But after a tough year for everyone, it'll be great to finally unwind, and welcome our community back through the doors."
"One of our customers is in the process of transitioning, and [the LGBTQ-friendly attribute] on our Profile means so much. For someone moving forward in their life, knowing they can go somewhere and not be judged is transformative."
TAUREAN COUGHLAN AND KEVIN ROCHE, CO-OWNER, TWO BOYS BREW