2-MINUTE READ
Google's digital skills training helped a Portsmouth-based artist showcase his work to the world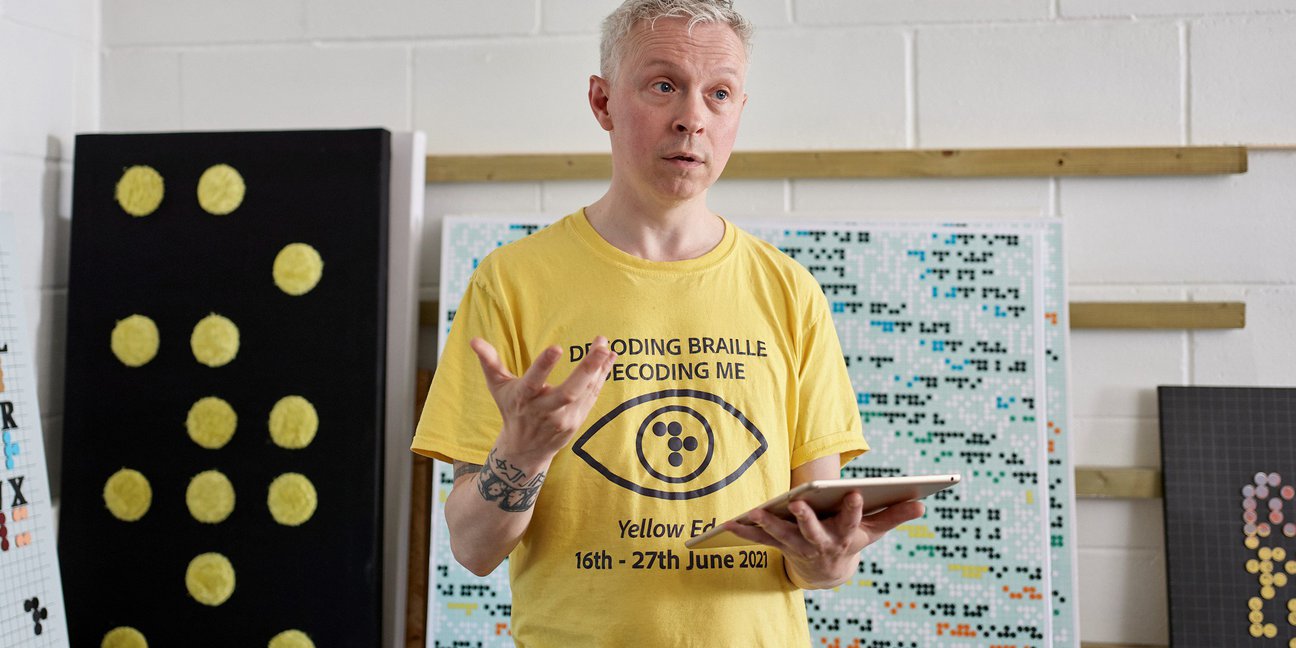 Portsmouth, United Kingdom
"Please DO touch" — that's the message artist Clarke Reynolds would like displayed alongside his artwork as the world moves back to visiting galleries in person. After losing vision in one eye as a child, then experiencing worsening vision loss in recent years, the Portsmouth-based artist has pursued his dream of being an artist by using sound, textures, and textiles as his canvas — and achieved international recognition and success with help from Google Digital Garage.
Wanting to showcase his work to the world, and knowing that his online presence needed to be stronger, Clarke reached out to Google for support and training at Google Digital Garage Portsmouth. "The idea of building a website to showcase my work seemed like an impossible challenge at the time," he says. "But the Google Digital Garage team helped me overcome that obstacle by making the development process accessible for my unique needs."
Honing his skills in digital marketing and learning how to optimise his website — including making it more accessible for other visually impaired people — helped Clarke present a more professional front when applying for new opportunities. When COVID-19 hit in March 2020, he was concerned about the impact on his livelihood, but even though planned exhibitions were cancelled, he was able to thrive by participating in global online exhibitions and hosting his own digital studio tours, using the skills he developed via the Google Digital Garage. He also created two community art pieces — one, "Unsung Heroes", paying tribute to essential workers, and another, a park bench including the braille alphabet. "My hope is that after lockdown, people can sit down and learn together," he explains.
Now he's helping others, offering advice to other visually impaired artists over weekly online check-ins. He also joined MaMoMi, a community interest company that aims to enhance artistic experiences for visually impaired individuals — and he is planning an exhibition in London with the MaMoMi team next year.
Going forward, Clarke plans to further explore braille as an art form and is devoted to raising even greater awareness for others just like him. "Without the help of Google Digital Garage, I wouldn't have been able to successfully launch my website and, consequently, gain as much attention around my work," he says. "Digital Garage has had a great impact on my life — my business has really taken off and I've even built real engagement with my social media followers."
"Google Digital Garage has had a great impact on my life — my business has really taken off and I've even built real engagement with my social media followers."
CLARKE REYNOLDS, ARTIST, SEEING WITHOUT SEEING