2-MINUTE READ
This innovator couldn't buy the bag he needed for his diabetes essentials — so he designed his own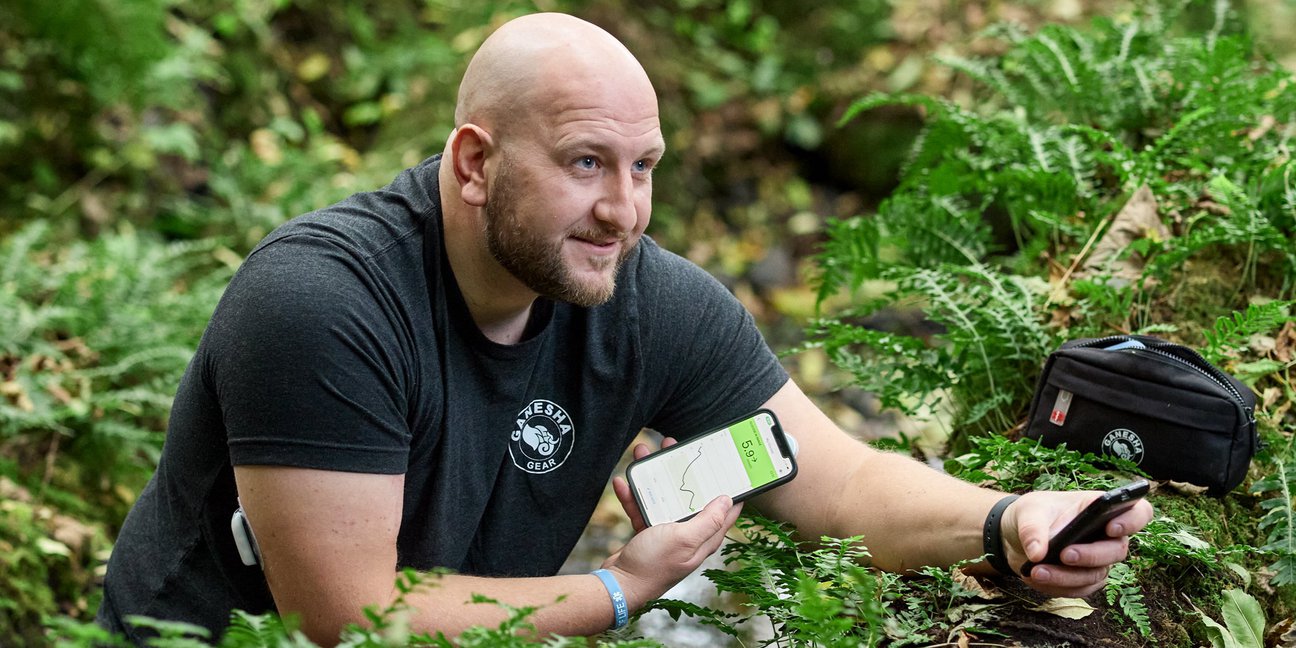 Digital Skills,
Healthcare
What do you take if you go for a quick workout at your local park? For many people, the answer won't be much more than keys, cash, phone — but for a diabetic, even a short trip out of the house can mean packing an array of essentials. That's why Grant Reilly designed the Diabetic Bag Of Life — tired of either medical bags that looked too clinical or a non-medical designer option that couldn't hold the essentials, he decided to make his own. And with a little help from Google Digital Garage, he's giving his customers the piece of mind and freedom to live the way they want to, while finding a new audience online.
From speaking to other diabetics, Grant knew that many wanted to lead a more active lifestyle, but that existing bags weren't up to the challenge — and so he developed a water-resistant bag with multiple pockets and compartments. He also included a Bluetooth tracker so owners can locate misplaced bags. "I spent the first four months of 2018 developing prototypes and doing research, and by the middle of the year I was in a place where I wanted to start marketing and selling," says Grant. "I knew a bit about that, but I also knew there was a lot I didn't know, so I attended a Google Digital Garage in Edinburgh, and then one in Glasgow, and got to the point where I could do almost everything I wanted to myself."
The skills from Google Digital Garage helped Grant with setting up a website to sell his product, as well as using YouTube and Google My Business to get it in front of the right people. "Using Google Analytics to see how people were using the website and what they were searching for helped make it more accessible," he explains. "Our product sells well when we engage with people and they can go away to find out more about it in their own time."
COVID-19 had a serious impact on Grant's ability to market his product in person, but he still had a successful 2020, recruiting Beth McDaniel and Ellen Watson, a pair of influencers known as the Diabetic Duo, to introduce his bags to a new demographic online — including schoolchildren and students.
Over the next year, Grant hopes to grow the business, introducing more products to his range and speaking to more people in person as lockdowns lift. "I engage with a lot of people myself, either individually or online," he says. "It's not about the hard sell — I'll share my own experiences, my thoughts, and my own feedback to support people, especially if they're new to diabetes management. We've also learned that the bag is actually being used by other people with medical conditions as a bag of life — we now have asthmatics and people with allergies using it to carry their supplies. It's about helping people — often, the bag is kind of an afterthought."
What do you take if you go for a quick workout at your local park? For many people, the answer won't be much more than keys, cash, phone — but for a diabetic, even a short trip out of the house can mean packing an array of essentials. That's why Grant Reilly designed the Diabetic Bag Of Life — tired of either medical bags that looked too clinical or a non-medical designer option that couldn't hold the essentials, he decided to make his own. And with a little help from Google Digital Garage, he's giving his customers the piece of mind and freedom to live the way they want to, while finding a new audience online. From speaking to other diabetics, Grant knew that many wanted to lead a more active lifestyle, but that existing bags weren't up to the challenge — and so he developed a water-resistant bag with multiple pockets and compartments. He also included a Bluetooth tracker so owners can locate misplaced bags. "I spent the first four months of 2018 developing prototypes and doing research, and by the middle of the year I was in a place where I wanted to start marketing and selling," says Grant. "I knew a bit about that, but I also knew there was a lot I didn't know, so I attended a Google Digital Garage in Edinburgh, and then one in Glasgow, and got to the point where I could do almost everything I wanted to myself." The skills from Google Digital Garage helped Grant with setting up a website to sell his product, as well as using YouTube and Google My Business to get it in front of the right people. "Using Google Analytics to see how people were using the website and what they were searching for helped make it more accessible," he explains. "Our product sells well when we engage with people and they can go away to find out more about it in their own time." COVID-19 had a serious impact on Grant's ability to market his product in person, but he still had a successful 2020, recruiting Beth McDaniel and Ellen Watson, a pair of influencers known as the Diabetic Duo, to introduce his bags to a new demographic online — including schoolchildren and students. Over the next year, Grant hopes to grow the business, introducing more products to his range and speaking to more people in person as lockdowns lift. "I engage with a lot of people myself, either individually or online," he says. "It's not about the hard sell — I'll share my own experiences, my thoughts, and my own feedback to support people, especially if they're new to diabetes management. We've also learned that the bag is actually being used by other people with medical conditions as a bag of life — we now have asthmatics and people with allergies using it to carry their supplies. It's about helping people — often, the bag is kind of an afterthought."
GRANT REILLY, FOUNDER, GANESHA GEAR