2-MINUTE READ
Google for Startups helped Vinehealth become the highest rated cancer app in the world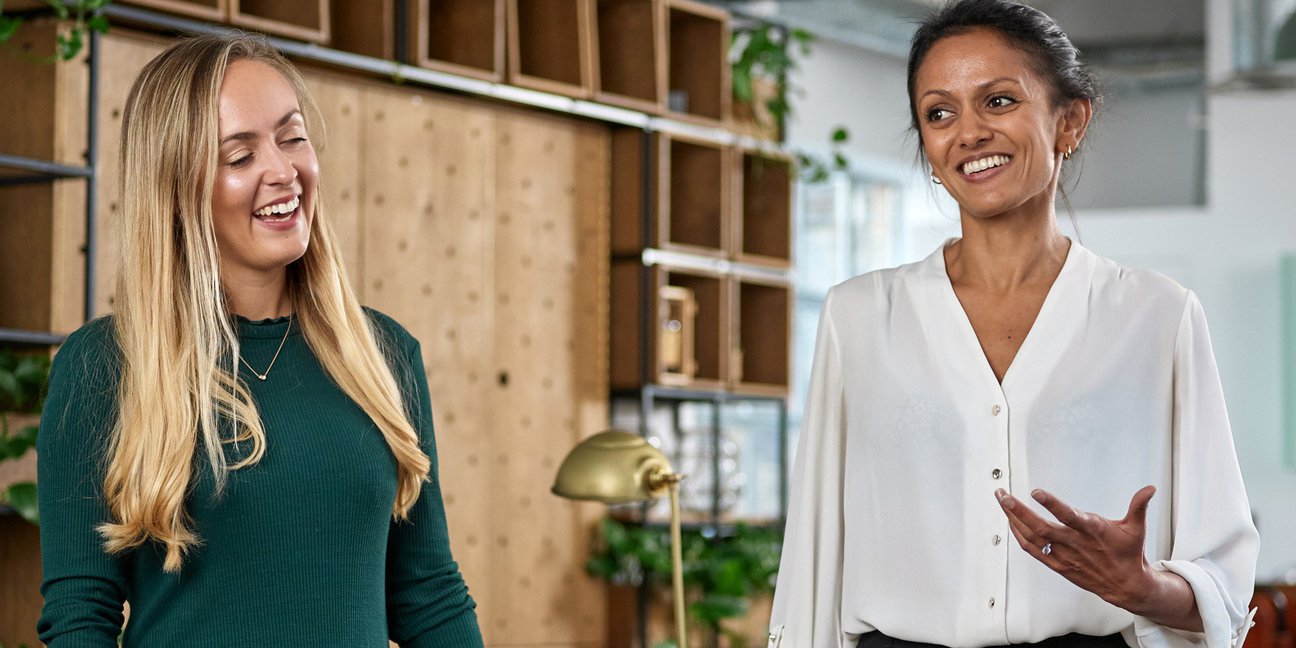 After working in hospitals for almost a decade, Dr. Rayna Patel knew from first-hand experience that cancer patients can often feel unsupported by the healthcare system, patients needed a way to easily access trusted information, thus making better use of the limited time with their doctors – and in turn improve the effectiveness of their treatment. Meeting with data scientist Georgina Kirby helped her to understand how digital technology can help, and led to the creation of Vinehealth – an app that allows patients to track their symptoms, manage their medications and understand their care, putting them back in control of their treatment.
Life as a cancer patient can be complex, entailing keeping track of medications, coping with side effects, managing lifestyle factors and communicating with both loved ones and doctors. Vinehealth aims to simplify the process — allowing patients to log medication and symptoms, track sleep and activity levels, schedule reminders and access a library of information — while also providing useful information to healthcare professionals.
"Providing support to patients outside of their regular appointments, while enabling clinicians to understand how their patients are doing at home, is crucial to providing better outcomes," explains Georgina Kirby, co-founder and CTO of Vinehealth. "The data we collect allows the patient to have much better, more personalised care — while also allowing them to feel more in control of the process."
Another problem that the women were keen to tackle was the lack of real-time information being collected from patients to aid pharmaceutical companies in understanding the effectiveness of their treatments. Vinehealth's integration with lifestyle data from smart devices has made this possible.
"My data science and tech background was mostly in healthcare, so I am aware of the massive gap in real-time tracking of people in their home environment whilst they're undergoing complex treatment," says Georgina. "The way that we all behave as human beings massively impacts cancer drug effectiveness, which can drop by up to 50% just due to how patients behave. Tracking behaviours can help pharmaceutical companies improve the effectiveness of their treatment options."
Rayna and Georgina started working on the app in November 2018, and started making good progress in the production of the app and in securing funding — but wanted to make sure they were moving in the right direction. "We wanted to be part of the right community and have the right people to lean on — it can be very lonely running a company and building it from scratch," explains Georgina. Looking for a community of like minded people to bounce ideas off and network with, they joined the Google for Startups Female Founders programme in 2019 – gaining access to Google tools, expertise and mentoring. "We moved into the Google offices with an amazing community of people," recalls Georgina. "We were given mentorship on design, tech, leadership skills and much more – Google for Startups really covers every area. One of the most useful things for me was meeting other digital health startups as it allowed us all to tackle some of the same really complicated problems together, such as the red tape that comes with working with healthcare institutions. We shared so many learnings and problems with each other and then helped each other solve them."
After completing the six-month programme, Georgina and Rayna launched the Vinehealth app in January 2020. Soon after that the pandemic hit, making the need for Vinehealth more urgent, as lockdowns and NHS accessibility issues meant many cancer sufferers were unable to receive their usual level of personal treatment and aftercare.
"We were one of 18 technologies out of 1,600 applications selected for an NHSX Techforce grant where we worked with The Royal Marsden NHS Foundation Trust," says Georgina. "We provided the app to cancer patients to improve their mental health and wellbeing during COVID-19, with 87% of those using the app reporting improvements in depression, fatigue and stress and anxiety."
Next steps for Vinehealth, which now has over 15,000 downloads, include expansion into the U.S, introducing non-English language options to the app and growing the 13 strong team. The startup recently secured a £1 million Innovate UK grant and Vinehealth, was named the highest rated cancer app in the world by The Organisation for the Review of Care and Health Apps (ORCHA).
"Ultimately, we want to be able to help as many cancer sufferers as possible," says Georgina. "And growing our business is a step towards a better lifestyle and future for everyone affected by this disease."
"We wanted to be part of the right community and have the right people to lean on as it can be very lonely running a company and building it from scratch. And that community and support was what Google For Startups provided us with."
GEORGINA KIRBY, CO-FOUNDER AND CTO, VINEHEALTH