2-MINUTE READ
How a cooking school pivoted to virtual classes — with meal kits delivered to the letterbox — during the pandemic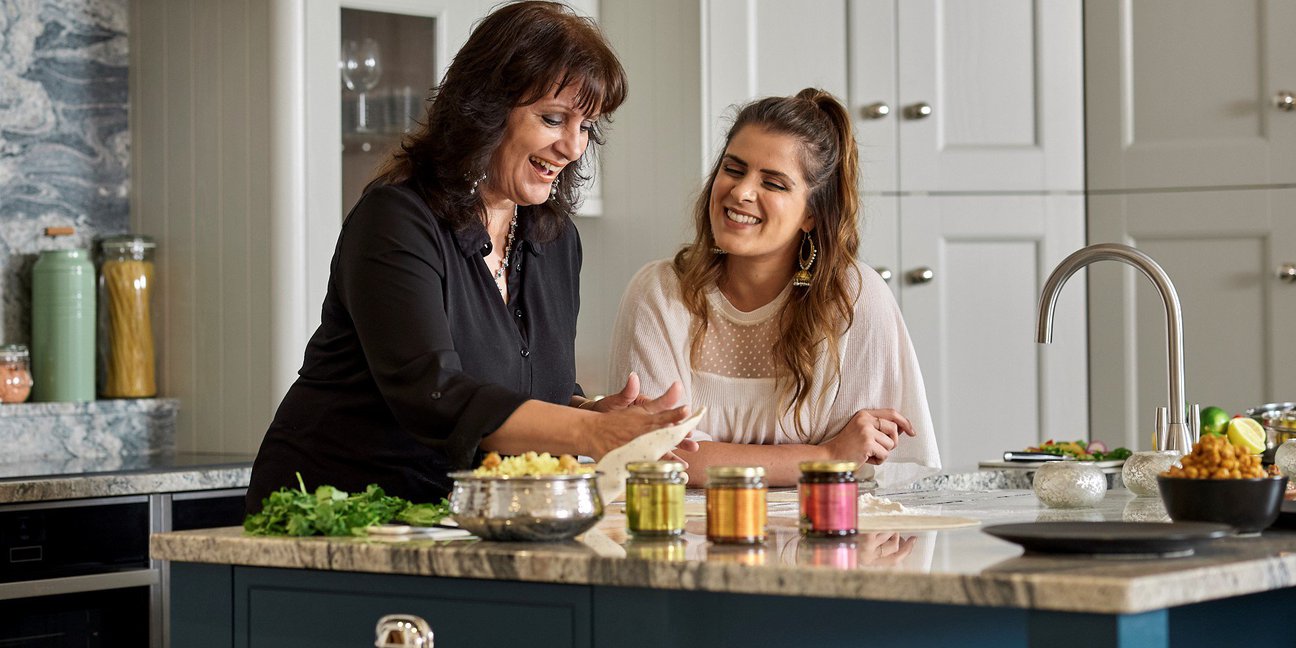 New Forest, Wiltshire, United Kingd
Digital Skills,
Business and Services
When Surinder and Safia Hothi-Bellamy first started getting requests to teach customers how to cook their traditional North Indian dishes, their first question was "Why?" "To us, what we make is simple, it's how we cook every week," says Surinder, who first learned traditional Punjabi cooking techniques from her own mother, and has since passed them on to her children. "We didn't understand it, but we did it, and it grew very quickly." Now, it's become the largest part of the family business – even with social distancing restrictions in place, and with help from Google mentoring the business is expanding into other areas.
Surinder first started her business by making and selling her family garam masala spice blend made the traditional way, only using whole spices ground from scratch, as an alternative to the Westernised blends commercially available in the U.K. Safia joined the business shortly afterwards, and the mother-daughter duo began promoting their products with events, starting with a pop-up restaurant in their village, as well as moving onto weddings and private parties. From there, the pair established a cookery school in 2013, seeing growth in 2015 thanks to mainstream news exposure.
"We keep class sizes small," explains Surinder. "The idea is that it's very hands-on, like being taught by your mother — we've been offered a lot of money to do bigger teaching events with larger numbers, but we don't want to dilute that experience."
When lockdowns began in 2020, Surinder and Safia had cause for concern — roughly 80% of their business was based on classes and live events — but they quickly provided online cook-alongs using their own meal kit system, delivering spice kits ahead of time to each attendee. Mid-way through the pandemic, the team started looking into Google mentoring, with the aim of improving their website, Google My Business profile, and visibility. "We'd done sessions with advisers from other places and they hadn't even done any research," says Surinder. "Our mentor Glenn from Google Digital Garage had already looked at our site before we spoke, and he came to our first appointment with a whole list of points. He gave very clear reasons for his advice — like refining our website to spread out the information and make it less intimidating, for example. A key focus for seeking Google mentorship was how to build our online strategy on growing private virtual events, but especially to gain corporate virtual team-bonding events. I've made lots of changes back-end to the website, changed keywords and generally followed a lot of our Google mentor's advice."
The online classes quickly caught on during the pandemic, and Pure Punjabi currently has a five-star rating on Google My Business. "We have noticed that since correcting the backend of our website and Google My Business pages, we have seen a significant rise in the number of visitors to our website, and we have also had three new corporate enquiries, who have told us that they searched online to find us," says Surinder. "Two of those are now confirmed bookings, and both are huge global corporations." Going forward, they're planning to expand their virtual events using their extensive range of Indian meal kits , but have no intention of changing the experience they've become famous for.
"I know people get fed up of doing video calls for work, but our virtual cookery experiences give people another reason to come together, feeding mind, body and soul," says Surinder. "You can see kids in the background, and know that everyone's coming together to cook from scratch and eat the food we're helping to provide. It's a very rewarding feeling."
"Our Google mentor was very transparent about his reasons for every suggestion, and it really helped us to trust and value the process."
SURINDER HOTHI-BELLAMY, FOUNDER, PURE PUNJABI