2-MINUTE READ
A Google Career Certificate helped Jelena start a new career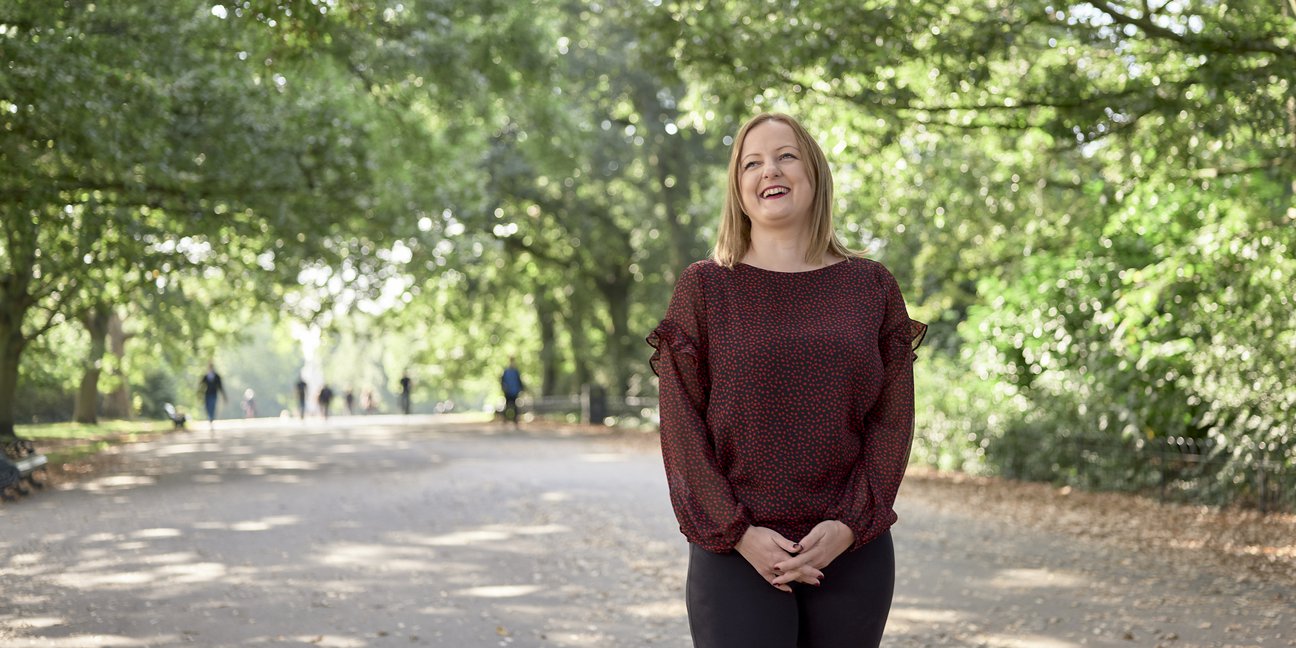 After working for much of her life in Serbia, Jelena Stephenson had to start her career from scratch in the U.K. — but retraining with Google Career Certificates helped her find a job she loves.
Jelena Stephenson moved to London from Serbia three years ago with her husband, bringing him back to his home city after he became critically ill with leukemia. Arriving in the U.K. she found that, despite her wealth of experience in education, she was unable to find employment in similar roles. Ultimately, she took the decision to retrain in a completely different field.
Before moving, Jelena had spent 15 years working in teaching at the University of Belgrade.
"It turned out my previous qualifications weren't recognised. I couldn't get a qualified teacher status and they wanted me to start again from scratch," says Jelena.
It was a testing period, as Jelena attempted to balance caring for her husband while also looking for work.
"The longer you don't work, you start to wonder whether anyone will ever hire you again," she says. "I had so many obstacles and you question your own abilities.
"In the end I decided to do something completely different, even though I always thought I'd be a teacher forever. I said to myself: 'OK, what else am I good at? What can I do?' It turns out I can do many things."
Jelena applied for the Project Management course from the Google Career Certificate programme after seeing it advertised on Twitter by Camden Council — one of three organisations for the free training schemes alongside The Prince's Trust and the Department for Work & Pensions.
"I got a free Google scholarship from Camden to do the course and I was really excited," says Jelena. "I took it on as a new challenge and I found it really enjoyable." She went on to complete the six-month course in less than 60 days. "In the end my score was something like 99.5%."
As her husband's health began to improve Jelena also began to participate in the local community and started volunteering for local charities.
"The course gave me lots of confidence at the same time that I was becoming active in my volunteering, which then turned into paid roles as a result.
"In 2020 I volunteered as a project coordinator, using the skills I learned on my course, for an initiative to tackle loneliness and it was very successful. I became really interested in community work and learning about things like grant making."
Jelena now works part-time as a digital project coordinator for the Participatory Grantmaking Community of Practice, helping various charity initiatives to share knowledge and find funding. Her role has quickly expanded beyond its local origins and she now works with projects across the globe.
"I want to continue working with communities and have an even greater impact on the wellbeing of those who are underrepresented in society" says Jelena. "It's similar to teaching — you're reaching out to people and helping them succeed. I'm really excited about doing more community work and using my new skills in the future, and being appreciated while, I hope, making a difference."
For Jelena, taking on a Google course has allowed her to discover new skills and abilities within herself. It's also helped her move into a career that she's deeply passionate about, especially in regard to the opportunities it gives her to help others.
"A great thing about the courses is that they repeatedly tell you that you don't need previous experience. This gives you a relaxed feeling where you can reevaluate yourself and the skills that you bring to the table," Jelena says. "I gained a lot of confidence because of the Google course."
Another positive feature of the course for Jelena was its bite-size and interactive structure. "I've started online courses before but never completed them. They never motivated me enough. The Google courses are so well organised they keep you engaged and you don't get burnt out or bored," Jelena says.
Since taking the course, Jelena has been approached by multiple recruiters for other project management roles. She's now continuing her development by enrolling on another course to earn a Google Data Analytics certificate.
"I've started online courses before but never completed them. They never motivated me enough. The Google courses are so well organised they keep you engaged and you don't get burnt out or bored."
JELENA STEPHENSON, DIGITAL PROJECT COORDINATOR, PARTICIPATORY GRANTMAKING COMMUNITY OF PRACTICE, GOOGLE PROFESSIONAL CERTIFICATES